SAT testing is tomorrow April 13th! This is a mandatory test for ALL Juniors! Tomorrow is a remote learning day for Freshmen, Sophomores, and Seniors.

Attention freshman families: Incoming freshmen and sophomores, along with their guardians are welcome to join us for an informational night. Come out and meet our faculty as they explain their programs offered at FETC. This is the perfect night to discover programs and ask questions as you plan for your high school career. We will gather on Monday, April 19 at Fred Eberle Technical Center from 5:30-7:30 pm. It is best to come for the two hours to ensure time for each program. Contact Denice Jeran, B-UHS School Improvement Specialist at
djeran@k12.wv.us
for more information.
https://tinyurl.com/FETC21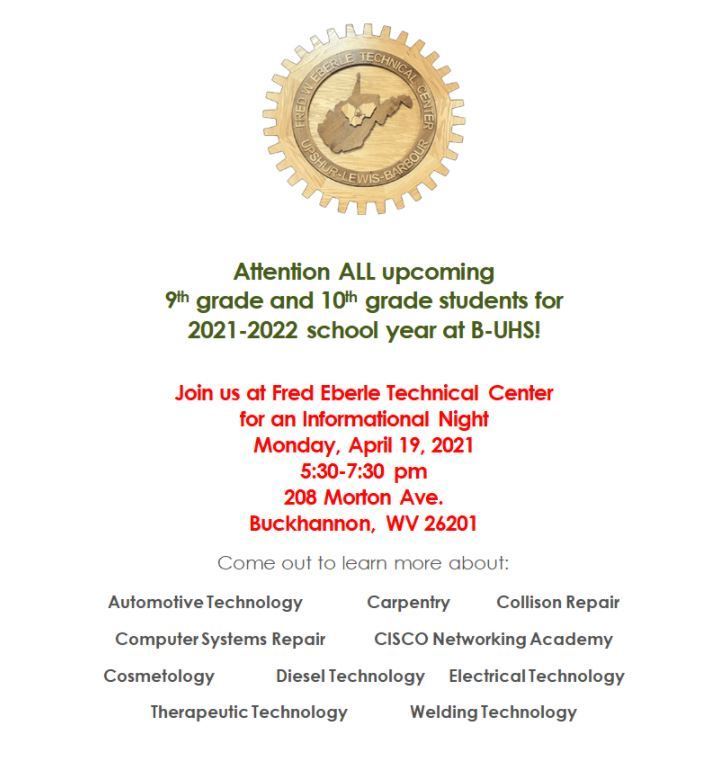 Tuesday 4/13/21 will be a remote day for 9th, 10th, and 12th grade students. 11th grade students will take the SAT this day and buses will run. Wednesday 4/14 will remain a normal remote day.


Food Box Distribution will be held at the Tennerton Warehouse today, December 30th, from 12:00-2:00pm. All Upshur County families may pick-up boxes at this location.

Curbside food box pick-up will be held TODAY, December 29th from 11:00-2:00 at Buckhannon-Upshur Middle School. All families may pick-up boxes at this location.